Call Cowboy allows small businesses look big by implementing a cloud-based IVR System into their customer's experience. When a customer calls your local phone number or 800 number they will be given the ability be connected directly to the individual or department of interest.
When inbound calls are received callers are offered a series of prompts, when keying an extension that caller will be directed to the individual or department requested. This is mutually beneficial to both the caller and the business.
Hosted IVR technology is a self-service greeting system or inbound callers, allowing them to route the call to the department they would like to speak with.
Easy to Use. Setting up your IVR is a breeze, you'll be ready to take calls in minutes.
Look Professional. Looking professional should be one of your top priorities when running a business.
Customer Support Automation. IVR allows callers to escalate support calls and direct them to the correct representative.
Transfer Errors. IVR technology will drastically reduce transfer errors.
Affordability. We built Call Cowboy to be the most cost-effective IVR system on the market.
Global Transfering. Call Cowboy IVR can route calls to any landline or mobile device in the world. This is particularly helpful when business work remotely and run off one main 1 800 Number .
Operation Cost Reduction. IVR can eliminate the need for a virtual assistant or receptionist answering and transferring calls.
Customer Satisfaction. Call Cowboy's IVR will increase customer satisfaction by allowing to speak to the correct individual.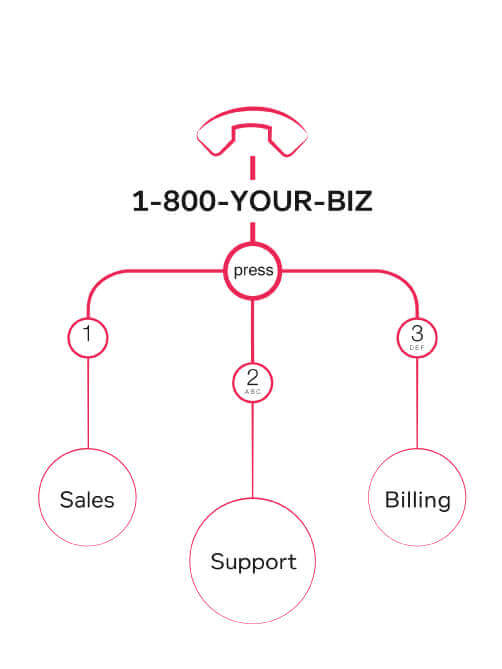 So you're a one-man operation and that's ok, but you want to perceive success and keep your mobile phone number to yourself. Call Cowboy allows you to purchase a toll-free number and or local phone number and route all calls to your mobile device. Creating your IVR system can look something like this (For Sales Press 1, Customer Service Press 2, Support Press 3.) When clients call they will think they are calling a brick and mortar business, no matter what extension they end up pressing it will route to your mobile device.