With the Call Cowboy predictive dialer software, you can supercharge your caller productivity and unearth new sales leads. It's the most convenient way to dial hundreds of numbers on your phone list - without needing to buy a brand new phone system!
A predictive dialer is an outbound calling system that will change the way you run your business. It can automatically dial multiple numbers at the same time from your calling list. By doing this, it ensures that agents only get connected to live anwsers.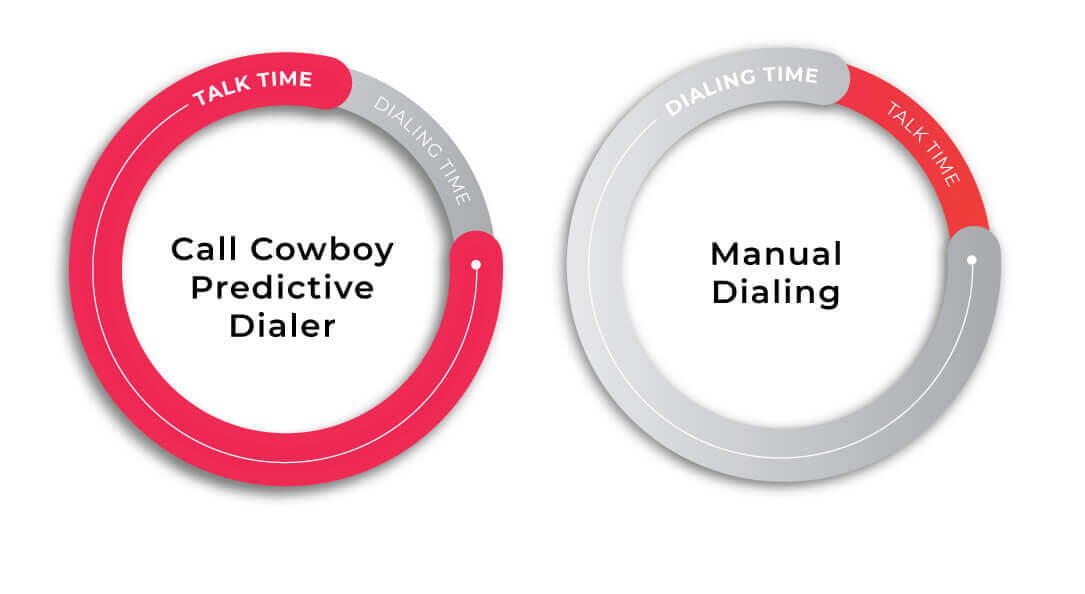 The difference between this and a typical automatic dialer is that predictive dialers use call metrics. They call upon these metrics to help predict the ideal moment when your agents are ready to make a call. In essence, it knows when your agents aren't currently on a sales call, and automatically dials a number to get them on one!
Making marketing and sales calls is part and parcel of modern business life. You need to try and generate leads or close some sales, and few things are more effective than a good old fashioned phone conversation.
At Call Cowboy, we've developed a dialer app that will transform the way you make calls. Instead of relying on your work phone to make manual calls, you can use your existing telephone - while keeping your business and private life separate.
Our revolutionary predictive dialer app lets you boost caller productivity by automating cold calls from your phone. At the same time, your phone number gets protected!
When you take advantage of our dialer system, your business will be greeted with the following benefits:
Make more outbound calls that you can on a regular telephone. In turn, this makes your business look far bigger and more professional!

Create custom notes on all of your sales leads, providing you with more information to close the deal.

Disposition all of the calls you make

Send marketing SMS messages from the same phone

Receive inbound calls from all your leads

Utilize advanced software to keep track of all your calls and analyze your overall performance

Use Call Cowboy features from anywhere in the world thanks to our cloud-based predictive dialer app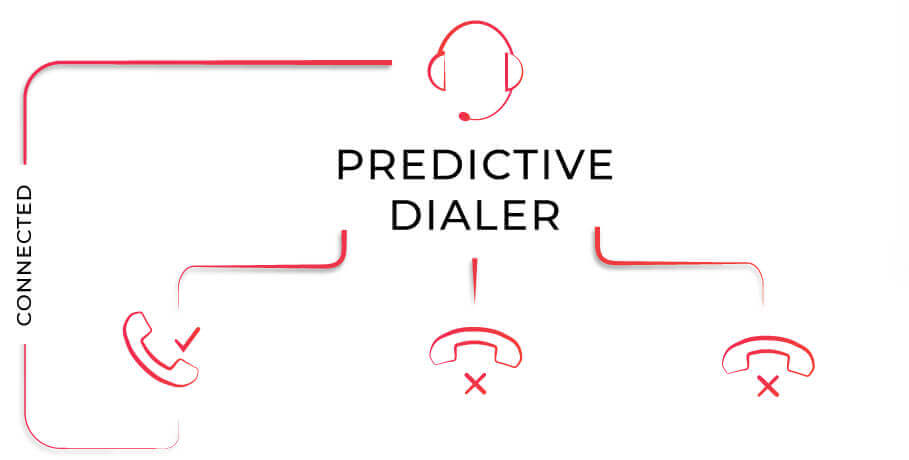 Don't want to download an app on your mobile phone? If you don't have the memory available on your device, or just don't want to download a new app, then you can use our mobile phone predictive dialer software instead. With this automated dialer platform, you can make calls directly from your mobile device, whenever and wherever you happen to be.
Do you think the Call Cowboy Direct dialer is more suitable for your needs? If you're interested in this product, then you'll be pleased to see it offers plenty of benefits:
No need to take up space on your phone with an app

Smart outbound and inbound calling announcement - this feature annocenses who's calling you, and who you are calling

Create your own detailed voice notes for all the conversations you have

Disposition calls using your touch tone device

Make use of our excellent analytics software to view your sales performance and track results

Use our call tracking software to keep your calls more organized

Send SMS messages straight from your mobile device with no app
Do you have an existing PBX phone system in your office? You can get more out of it by adding auto-dial functionality with our hosted predictive dialer. All you need to do is sign up, then log into your Call Cowboy portal through our website. From here, you can begin dialing with your PBX phone in just a few minutes.
How will our predictive dialer improve your PBX phone? Well, here are some of the key benefits:
Use Call Cowboy's cloud-based app to create notes on all your calls

Save time and stress by not needing to install the app on all of your call center terminals

Receive intelligent announcements that let you know who you're calling and who's calling you

Create detailed voice notes via the system

Track all of your calls

Analyze your performance
Not only do we offer a mobile app, but we also offer a desktop one as well. This app is perfect for business owners or executives who want a more efficient way of running a sales operation. With the Call Cowboy desktop app, you can log on and get to work in minutes. Then, you get all the functionality of the mobile app, but everything is controlled via your computer. Our cliud based app can be used on multiple computers in your call center or office to provide more of your employees with greater control over their sales!
The benefits of our desktop app include:
Permission-based roles for both telemarketers and managers

Call monitoring including call barging and whispering

Detailed analytics for each call

Blended inbound and outbound calling

Set up an autoresponder for SMS messages

Use interactive voice recognition

Use unlimited extensions

Send unlimited business texts
There are other dialing systems out there, so what makes ours so special? Well, the list is endless, but here are the key reasons you need to choose Call Cowboy over anyone else:
You can incorporate dialing facilities into your existing PBX system or mobile phone. This lets you dial contacts - no matter where you are. If you're commuting to work or on a break, then you can use our dialer to connect with clients at the touch of a button. It's so easy, and you don't have to buy any new equipment.
The beauty of our app is that you don't need to take out separate phone contracts or buy any additional hardware. This can save you so much money, meaning you get all the benefits with hardly any costs. Plus, we offer competitive predictive dialer pricing for all of our customers!
Connecting to warm leads or calling cold contacts takes up a lot of time and effort. Typically, you rely on dozens - maybe even hundreds - of employees calling your prospects and hoping for an answer. A lot of the time, nobody picks up, meaning you pay your workers for pretty much nothing. The costs add up, and the hours' tick by!
By using Call Cowboy, you can boost the number of calls your company makes per day. Contacts are automatically phoned, and the system connects you to whomever anwsers first.
Through doing this, you can increase call volume and pick-up times! Your employees only speak to love connects, boosting your chances of generating sales and leads too.
By using cloud technology, your dialer system can be accessed anywhere in the world. This means you aren't tied to one place and can use all the fantastic features from various locations. So, you can always stay in touch with your business and clients.
There's another benefit to using a cloud-based system; it's easier to hire and retain sales executives. You can hire remote workers based on their skills and experience - rather than looking for the best people you can find in your location. This boosts the quality of your workforce - and everyone can use your predictive dialer from their home location!
No matter the size of your business, predictive dialer meets your needs. We give you unlimited agent accounts, meaning you can keep adding people as your business expands. This is perfect if you're promoting an event or new product, and want to make more calls than usual. Or, if you hire new or temporary staff, then the software accommodates them with ease. You don't have to pay any extra because you have unlimited accounts!
Your sales activities will never improve unless you figure out what's going wrong. With our predictive dialer, you can monitor and collate lots of data from all your calls. This shows you how many leads your staff are connecting with, the percentage of positive outcomes, and so much more.
By taking advantage of this, you can analyze your performance. See what's holding you back and build on the positives. Plus, our app makes it easy for you to condense all your findings down into formats that are simple for everyone to understand.
Call Cowboy's platform can be used by anyone in the sales industry. As long as you have something to sell, you will make use of our platform. We have plenty of predictive dialer reviews from previous clients, many of which are from the following sectors:
Call Centers

Naturally, call centers require the best outbound calling solutions. For years, they relied on staff to manually dial every number. This took up too much time and meant your staff missed out on lots of potential leads.

By reducing the need to actually dial numbers, Call Cowboy speeds up your call center. Agents will constantly be on the phone making calls, and the predictive dialer software means they get connected to leads as soon as they're ready to talk to a new prospect! You drastically reduce operating costs and boost productivity in the call center.

Business Owners

Our dialing software let business owners take their organizations to the next level. Make more connections with leads, and let your staff reach more targets than ever before. Whether you're conducting B2B or B2C sales campaigns, we let you be more efficient when dialing.

Realtors

Realtors need to stay in contact with potential buyers and sales leads all the time. If you're too slow, you can miss out on a big opportunity and blow a sale. You simply can't take any risks, which is why our dialer will help you. We take the hassle out of contacting clients while reducing your operating costs at the same time. Don't waste time trying to make calls and missing your targets. Let our predictive dialer app do everything for you.

Car Salesmen

Again, selling cars depends on contacting your leads and getting them interested in your products. You'll spend lots of time on the phone, but most of your hours are spent dealing with dead calls that go straight to answerphone or don't get picked up. Call Cowboy can whizz through your entire call list and automatically dial contacts until one picks up. This ensures that you always have someone to talk to when you're on the phone, increasing your chances of making sales - and saving lots of time too.

Outdoor Sales Rep

Outdoor sales reps do a lot of work face-to-face with clients. However, you still need to call prospects to either follow-up on warm leads or create new ones. Naturally, time is of the essence, and you can't afford to keep going back to the office, calling people, then heading back out. Call Cowboy is perfect for this as you can use the mobile app to turn your phone into an auto-dialing machine. Use our predictive dialer software from wherever you are, meaning you can follow-up on your leads with ease.
Want to make the most of our predictive dialer? Sign Up to Call Cowboy today! It only takes a few minutes, and you'll totally transform the way you make sales calls.